The Brisbane-based company quickly gained a reputation for quality and innovation, working with some of the country's leading academics, researchers, and scholarly and professional societies. Two major publishing arms were established within the company, one to pursue scientific journal publishing, the other to focus on evidence-based treatment guides and resources for mental health clinicians. Both had a firm commitment to take Australian research onto the global stage.
In 1998 the Griffith University developed FRIENDS anxiety prevention program was published, recognised at the time as the world's leading school-based intervention for childhood anxiety with translations and adaptations in schools across Australia, New Zealand, Canada, the UK, Germany, Finland, and the Netherlands. A stable of highly successful peer-reviewed scientific journals was also established and distributed worldwide in both print and digital formats.
In February 2012, having published 28 peer-reviewed journal titles over 24 years Stephen split the company and sold the majority journals division to Cambridge University Press to allow him to concentrate on a smaller more specialised book publishing list. AAP continues to publish a selective range of practitioner resources and books in print and digital formats for wholesale distribution across Australia, Europe and North America as well as retailing through the
www.aapbooks.com
webstore.
Publisher, Editor-in-Chief, and Owner
Stephen May
BSc (Hons) Psychology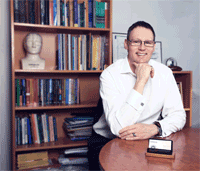 As the son of a daily newspaper journalist, Stephen was introduced to the world of publishing early in life. He began learning the craft of writing and editing while still at school and studied journalism at university before switching to his other great love, science, then combining both by creating his own scientific publishing company.
Stephen has over 27 years experience in the publishing industry as well as 7 years tertiary training in the fields of psychology and vertebrate biology. He was a registered psychologist for 25 years who graduated from the University of Queensland in 1984 and went on to pursue postgraduate study in both psychology and neuroanatomy before establishing Australian Academic Press in 1987.
Stephen is a past President of the Australian Publisher's Association (APA), the peak industry body for Australian book publishers, serving on various APA committees since 2000, and on the APA Board from 2010 to 2013. He is a founding member of the Australian chapter of the UK-based Association of Learned and Professional Society Publishers (ALPSP) and a former Editorial Board member of
Learned Publishing
, the journal of the ALPSP.
In 2017 Stephen was a proud recipient of the George Robertson Award for service to the publishing industry.
He has participated in various scholarly and periodical publishing workshops and forums over the years and holds a particular interest in emerging trends in electronic publishing and distribution. He has personally edited an extensive range of scientific and professional texts and written professionally for both magazines and newspapers on psychological topics, as well as serving as a co-author of the book
Deadly Healthcare
.
Stephen has been invited to speak to editors, librarians and psychologists on the role of the publisher in the social sciences. He has also presented at scientific conferences in Australia and the United States on the prevention of childhood anxiety. He remains highly enthusiastic about psychology and working with psychologists to promote the advancement of the profession and its application to everyday life. Stephen is also somewhat of a computer geek, having bought his first Apple computer in 1986 (a secondhand 64K Apple II+), and is now guilty of hoarding several old Macs, including a prized 1988 Macintosh Plus.
Editor
Dr Linda May
BA (Hons, Psychology), BSc (Hons, Physiology), PhD (Neuroscience)
ASSOCIATES
---
Design and Production

Luke Harris
, Working Type Studio
Lizelle van Antwerpen
, Precisio
Publicity

Rachael McDiarmid
, RM Marketing Services
GLOBAL PRINTING & FULFILLMENT PARTNERS
---
Australian Academic Press was founded by psychologist Stephen May in 1987 as an independent publishing house servicing the behavioural and social sciences.