The Gifts of Compassion: How to understand and overcome suffering
Stan Steindl
Psychology Consultants Pty Ltd
"In this beautifully written book, esteemed clinical psychologist and therapist Stan Steindl takes us on a personal journey into the ups and downs of what it is to be human and reveals both the challenges and the joys of building one's compassionate mind."
— Professor Paul Gilbert OBE, Founder of Compassion Focused Therapy and bestselling author
Life can be complicated. And sometimes, really very difficult. We may struggle with many common life challenges: in relationships, parenting, and work, just to name a few. We can end up suffering from stress, anxiety, and depression, or loneliness, isolation or shame.

But did you know that a lot of that suffering comes from within? Rumination and self-criticism are uniquely human thought processes, developed over hundreds of thousands of years. Our brains evolved into an impressive and complex organ that helped us to survive a primitive world, and yet today may yell at us with harsh and hostile criticism, sometimes even over the smallest thing!

In fact, critical self-talk is very common. And it flies just under the radar of our conscious mind — condemning and undermining us with its inner voice. This book will show you how to do better — to turn anguish into delight through the use of our Compassionate Self.

Through a clear series of steps and practices, noted clinical psychologist Dr Stan Steindl explains how compassion evolved as a vital part of our nature and thought, and the way we look after one another, and even ourselves. He then shows how to use our compassion as a key to a healthier mental life.


With personal vignettes illustrating the therapeutic benefits of compassion focused therapy, practical exercises that use mindfulness and imagery to help us develop attention to the present moment, and a wealth of guidance on self-criticism, shame and forgiveness, this book can change your life.
Also available
- The Gifts of Compassion
Personal Practice Workbook $19.95
Helping you on your compassionate
journey to a healthier mental life.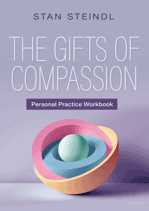 Praise for the Gifts of Compassion
Smart and engaging, this book unpacks the science of compassion in a delightful way and shows how to bring compassion into our lives when we need it the most. Don't miss the special topics on shame and forgiveness. Highly recommended!"
— Dr Christopher Germer, Harvard Medical School. Author, The Mindful Path to Self-Compassion
Dr. Steindl provides not only an understanding of the basis of suffering but a clear-cut path to overcome our suffering. His book is a gift to each of us."
— James R. Doty, M.D., Stanford University Center for Compassion and Altruism Research and Education (CCARE) and best-selling author of Into the Magic Shop: A Neurosurgeon's Quest to Discover the Mysteries of the Brain and the Secrets of the Heart
About the Author
Dr Stan Steindl is a clinical psychologist in Brisbane, Australia. He is a director of the successful private practice Psychology Consultants Pty Ltd, as well as an adjunct associate professor at the School of Psychology, University of Queensland (UQ).
Stan has provided training and supervision in matters related to clinical psychology extensively in Australia over the last 20 years. He also has a strong interest in the science and practice of compassion, and the application of compassion in therapy and therapeutic relationships. He is the co-director of the UQ Compassionate Mind Research Group.
Reviews
Center for Compassionate Leadership
Montauk, NY USA
"Dr. Stan Steindl, a clinical psychologist and leading academic researcher in the area of compassion, uses his abundant gifts generously in The Gifts of Compassion. Steindl's writing is both accessible and particularly comforting when addressing challenging topics, reflective of the understanding style of a skilled clinical psychologist.
Steindl's particular gift comes in holding together as one the frequent perceived tensions that arise in compassion work: the strength and courage required for compassionate action and the kindness and tenderness necessary to acknowledge another's suffering, or non-judgmental awareness coupled with the judgment necessary to know how to act, for example.
The book has a companion workbook (purchased separately) allowing the reader to journal as they journey along a path of growing self-compassion and compassionate action. "
"Suffering is not our fault, but it is our responsibility. Fortunately, everyone has what it takes to alleviate suffering — compassion! Smart and engaging, this book unpacks the science of compassion in a delightful way and shows how to bring compassion into our lives when we need it the most. Don't miss the special topics on shame and forgiveness. Highly recommended!"
Dr Christopher Germer, Harvard Medical School. Author, The Mindful Path to Self-Compassion
"It's a real gift to be able to translate complex biosocial, psychological models of human functioning in a way that's accessible, practical, relatable and inspiring to us all. Dr Steindl has done exactly that in The Gifts of Compassion and this is what makes his book different. As a leading practitioner in compassion focused therapy, he has combined his theoretical knowledge and clinical skills with his gift for storytelling. His book is a joy; reading like a story, flowing through your mind and peppered with pearls of wisdom to help us all deal with life's struggles through the lens of compassion focused therapy."
Dr Deborah Lee, clinical psychologist and author of The Compassionate Mind Approach to Recovering from Trauma: Using Compassion Focused Therapy
"This extraordinary book takes you in a fascinating journey from the depths of our human minds and the nature of suffering, through what compassion truly is and entails, towards how we can nurture, embody and manifest it in our lives in ways that are helpful to us and to others. The author is to be commended for this splendid book that skillfully takes the complex science of compassion and weaves it into a straightforward guide to personal practice. This book is a gem. A true gift and a 'must read' to all who want to experience and share the life-changing potential of compassion."
Marcela Matos, PhD, University of Coimbra, Portugal
"Every human being suffers. For some, this suffering is overwhelming and impacts every aspect of their lives. As we now know from science, compassion towards self and others is the antidote. In The Gifts of Compassion, Dr. Steindl provides not only an understanding of the basis of suffering but a clear-cut path to overcome our suffering. His book is a gift to each of us."
James R. Doty, M.D., Stanford University Center for Compassion and Altruism Research and Education (CCARE) and best-selling author of Into the Magic Shop: A Neurosurgeon's Quest to Discover the Mysteries of the Brain and the Secrets of the Heart
"This book is rich with gifts that help address that which we all experience, suffering. Steindl takes us through clear, practical and personal examples of how Compassion Focused Therapy can help alleviate and prevent suffering. Excellent reading for anyone interested in compassion."
Dr James N. Kirby, Compassionate Mind Research Group, The University of Queensland
"This is an immensely readable book, grounded deeply in theory. Stan Steindl's deep
understanding of the healing power of compassion emerges from years of working with others making the book both theoretically interesting and useful. With wisdom, compassion, and humor this book gives us an open door to live a more compassionate life."
Deirdre Fay, LICSW, Author of Becoming Safely Embodied and Attachment-Based Yoga & Meditation in Healing Trauma