The Health Professionals Guide to Delivering Psychological Care for Men with Prostate Cancer
Suzanne K Chambers AO, PhD, Nicole Heneka, PhD, Jeff Dunn AO, PhD
The best standard of care for prostate cancer patients includes the amelioration of psychological distress.
Unaddressed psychological distress in men with prostate cancer is associated with poorer patient outcomes. Yet despite routine clinical follow-up, many men with prostate cancer do not receive psychological interventions in a timely manner, if at all.
Almost one-third of men with prostate cancer experience psychological distress. Compared with men in the general population, men with prostate cancer are twice as likely to experience depression and three times more likely to experience anxiety. They have a 70% greater risk of suicide.
If unaddressed, such significant levels of psychological distress harm a man's ability to effectively navigate the complex medical treatment journey required for prostate cancer survivorship, compromising their physical health, decision-making, problem-solving, communication with health professionals, and ability to effectively use patient support networks.
Yet the level of patient distress is often hidden from healthcare providers. Asking for psychological help does not come naturally to many men. Research has even shown that men who say to their doctor they will take action in the face of dealing with prostate cancer are actually those who are least likely to seek help.

That's why The Health Professionals Guide to Delivering Psychological Care for Men With Prostate Cancer was developed. It allows health professionals to incorporate cost effective accessible psychological support in the care they deliver to men with prostate cancer from the point of diagnosis and throughout the man's treatment journey.
Appropriate for use by a range of health professionals, including nurses, doctors, social workers, physiotherapists and psychologists, the Guide shows how to construct a tailored intervention centred on increasing a man's personal agency in self-managing the challenges of prostate cancer.

It applies a cognitive behavioural approach and is designed to make use of the evidence-informed self-help book Facing the Tiger: A Survivorship Guide for Men with Prostate Cancer and their Partners. The strategies used are evidence-informed, and the approach allows for cost-effective, flexible support that is men-centred and strengths-based and incorporates an understanding and responsiveness to masculine values in the design of care. It identifies a man's personal strengths on which he can build his resilience in the face of the cancer diagnosis.
standardised session structure guidelines

patient self-management resource

Facing the Tiger

as an Appendix

Fl

exible delivery options




downloadable and photocopiable session worksheets

a

downloadable fill-in PDF patient survivorship care plan

download links to free external forms/tests

external resource list covering issues such as sex, urinary problems, exercise and complementary medicine.
Training for Health Professionals
While not essential for use,
a training workshop for health professionals who have knowledge and experience working with people with cancer is available. Guidance is provided around vigilance and surveillance of psychological well-being by incorporating screening for distress into the care model. The intervention strategies applied are informed by evidence on effective psychological care for men with prostate cancer applying a cognitive behavioural approach and drawing from three main perspectives: stress and coping; problem-solving; and psychological flexibility. The workshop includes three core study elements that connect sequentially supported by the healthcare provider manual and a reflective learning Participant Training Workbook with set pre-reading. Small group learning cohorts (maximum of 20 participants) are utilised with a focus on connecting theory and evidence to practice. Remote and face-to-face delivery modes are available.
For institutions and organisations
requiring an invoice before payment

SEE ALSO: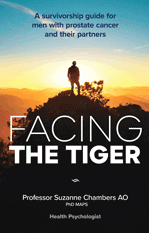 A

Facing the Tiger


Psychological Care Resource


About the Author
Professor Suzanne K Chamber

s AO, PhD

Professor Chambers AO is a health psychologist and registered nurse who has been working as a practitioner-researcher in psycho-oncology for over 30 years. She was awarded her PhD in 2004 within the School of Psychology at Griffith University and has over 300 peer-reviewed publications and numerous books, book chapters and monographs. Her work has focussed on developing models to predict help-seeking and adjustment after cancer: designing remote access psychological interventions for people affected by cancer, integrating peer support into controlled design methodologies, and integrating distress screening into interventions to target high distress cancer patient groups. Professor Chambers was appointed an Officer in the General Division of the Order of Australia (AO) in 2018 for distinguished service to medical research, particularly in the area of psycho-oncology and to community health through patient care strategies to assist men with prostate cancer. She is a Board member of Health Male (Andrology Australia). Professor Chambers is Executive Dean of the Faculty of Health Sciences at the Australian Catholic University.
Dr Nicole Heneka

, PhD

Dr Heneka is a Postdoctoral Research Fellow with the National Health and Medical Research Council Centre for Research Excellence in Prostate Cancer Survivorship at the University of Technology Sydney. She has over 20 years of experience in program management and has focussed on health services research in cancer and palliative care services for the last 12 years. In her current role, she leads a program of research in the delivery of prostate cancer survivorship care, including patterns of care, implementation and evaluation strategies for survivorship care, and research capacity building in survivorship care. Dr Heneka's work in health services research has been recognised through her award of the Clinical Excellence Commission Ian O'Rourke Scholarship in Patient Safety (2016) and the Palliative Care Australia, National Emerging Researcher award (2019).
Professor Jeff Dunn

AO, PhD
Professor Jeff Dunn AO is the CEO of Prostate Cancer Foundation of Australia and President-Elect of the Union for International Cancer Control (UICC). His work in cancer control spans 30 years, during which time he has dedicated his career to the development of strategies that underpin cancer survival and improve awareness of the disease. He is a recognised World Cancer Leader and, prior to his appointment as UICC President-Elect, served as Treasurer of the UICC for four years and as an Elected Director for six. Professor Dunn also serves as the Professor and Chair of Social and Behavioural Science at the University of Southern Queensland, where his work has a central focus on the social and behavioural aspects of cancer, covering the continuum of research, prevention, early detection, supportive care, and quality of life. He is actively involved in research in this field and is also a Director of the West Moreton Hospital and Health Service Board and Chair of the Risk and Audit Committee. He holds an appointment as an Officer in the Order of Australia (2014) for distinguished service to medical administration through the leadership of cancer control organisations and promotion of innovative and integrated cancer care programs.

Table of Contents
Chapter 1
Understanding the Facing the Tiger Psychological Care Approach
Chapter 2
Building a Facing the Tiger Intervention
Chapter 3
The Foundation Components of a Facing the Tiger Intervention
Chapter 4
Flexible Component 1: Psychoeducation — Coping with a Prostate Cancer Diagnosis
Chapter 5
Flexible Component 2: Stress Management and Wellbeing
Chapter 6
Flexible Component 3: Treatment Decision Making
Chapter 7
Flexible Component 4: Managing Relationships Under Stress
Chapter 8
Flexible Component 5: Problem Solving
Chapter 9
Flexible Component 6: Managing Difficult Thoughts
Chapter 10
Flexible Component 7: Pivoting to Valued Directions
Chapter 11
Flexible Component 8: Masculinity and Prostate Cancer
Chapter 12
Flexible Component 9: Prostate Cancer and Sexual Relationships
Chapter 13
Flexible Component 10: Survivorship Care
References
Appendix 1: Resources
Helpful Information
Appendix 2: Client Handouts
Appendix 2.1 Tiger Activity Handout 1 — Awareness of Responses to Stress and Coping Strategies
Appendix 2.2 Tiger Activity Handout 2 — Goal Setting
Appendix 2.3 Tiger Relaxation Handout
Appendix 2.4 Tiger Activity Handout 3 — Mindfulness Focussing
Appendix 2.5 Tiger Activity Handout 4 — Goal Setting to De-stress
Appendix 2.6 Tiger Activity Handout 5 — Treatment Decision Making
Appendix 2.7 Tiger Activity Handout 6 — Problem Solving
Appendix 2.8 Tiger Activity Handout 7 — Automatic Thinking
Appendix 2.9 Tiger Activity Handout 8 — Identifying Patterns of Thinking
Appendix 2.10 Tiger Activity Handout 9 — Getting Unstuck
Appendix 2.11 Worksheet: Masculinity in Health Inventory
Appendix 2.12 Tiger Activity Handout 10 — Getting Sex Back on Track
Appendix 3: Prostate Cancer Distress Screen
Appendix 4: Prostate Cancer Survivorship Care Plan
Appendix 5: Patient Screening Tools
Appendix 6: Facing the Tiger: A Survivorship Guide for Men with Prostate Cancer and their Partners